Profile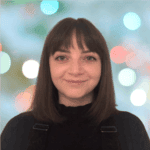 Amy Carter
Curriculum Vitae
Education:

King Edward VI Upper School, University of Leeds

Qualifications:

GCSEs, A Levels, Bachelors degree, Masters degree

Work History:

A hotel, a few clothes shops, a couple of pubs and as a nanny! Then for Leeds university as a research assistant, and for a charity called Canal & River Trust.

Current Job:

Civil Engineer - Water Management & Flood Resilience

Employer:

Arcadis. We improve everyday quality of life by creating spaces where people want to live, work and play.
About Me

I'm a civil engineer based in Leeds (up north), but born and raised in Suffolk (down south), with a short detour in Spain (very south!).

Read more

Hi! I'm Amy (she/her). I live in Leeds and have lived here for 10 years, since I left home for University at 18. It took me a while to figure out what I wanted to do with my life – I've found myself in all kinds of strange places! But now I am a civil engineer and I love it.

When COVID-19 is over, I'm looking forward to getting back to some of my favourite hobbies – watching concerts, going to the cinema, and travelling to new places.

My Work

I fix things which have been damaged by floods, and work to reduce flooding in the future.

Read more

A civil engineer's job is to build, fix and look after the things which make our towns, villages and cities work. For me, that means looking after the water in our canals, rivers and reservoirs. The most important thing is making sure it stays in the right place! But sometimes it doesn't – and I help with that too. Other times, instead of fixing things, I get to build new things to make places nicer for visitors like you – that's my favourite bit.

I love my job because every day is different, and I get to spend a lot of time outdoors! But there's a problem. Climate change means that it's raining more, which means there's a lot more water to deal with, and we're running out of places to put it. I'm glad that I get to do a job where I can help to solve this problem, and make the world a better place for future generations (you!).

My Typical Day: Every day is different - some days I go to the office, but other days I can be driving around looking at different problems. In the office you can normally find me doing drawings, writing reports and chatting with my team.

Read more

If I'm working from the office (or from home at the moment) I normally start around 08:30 and will check my emails and write my to-do list for the day. I work on lots of different projects all at the same time, so being really organised is important! In the mornings I might have a few meetings to talk about how a project is going, and then in the afternoons I will focus on one piece of work. Sometimes I will be doing lots of drawings, sometimes I will be writing a report, and sometimes I will be making presentations.

The best days are when I get to go out and about. Sometimes I'll have to wake up really early and drive a long way, but it's always worth it when I get there. I get to meet other people from my team, and we will spend the day looking at a problem together and trying to work out how to fix it. We go in all weather so sometimes it's a bit wet and cold, but we always get a good lunch!

What I'd do with the money

Teach more students about the history of engineering in the UK and inspire the next generation of engineers.

Read more

Ever since the 1700s and the start of the Industrial Revolution, the UK has had brilliant engineers and inventions which have shaped the world we live in today – but growing up, I never learnt about any of them! I would use the prize money to produce some learning materials for teachers and students, to celebrate engineering and inspire more young people to become engineers.

My Interview

How would you describe yourself in 3 words?

Eco-warrior, engineer, terrible dancer.

What's the best thing you've done in your career?

Writing my Masters thesis on the future of robotics and artificial intelligence in the construction industry.

What or who inspired you to follow your career?

Kevin McCloud from Grand Designs.

What was your favourite subject at school?

Science.

What did you want to be after you left school?

No idea!

Were you ever in trouble at school?

Once or twice...

If you weren't doing this job, what would you choose instead?

Architect.

Who is your favourite singer or band?

Arctic Monkeys.

What's your favourite food?

Pizza.

What is the most fun thing you've done?

Travelling around Japan with my best friend.

If you had 3 wishes for yourself what would they be? - be honest!

Health, happiness, and to make a difference.

Tell us a joke.

What do you call cheese that's not yours? Nacho cheese!

My profile link:
https://metre21.imanengineer.org.uk/profile/amycarter/
---
---
---